Rtr. Sathish Balakrishnan

District Rotaract Representative
Rtr. Sathish Balakrishnan, a remarkable individual known for his infectious smile andunwavering dedication. Born on 18 August 1995, Sathish began his journey of growth and learning at CBM Sakunthala School, later continuing his education at PSG Sarvajana Higher Secondary School. As his aspirations took flight, he pursued a Bachelor's degree in Civil Engineering from Kathir College of Engineering.
To further expand his knowledge and skills, Sathish worked as a site engineer and interior designer for two years, gaining valuable experience in various locations, from Kashmir to Kovaipudur. During this time, he developed a keen interest in management and leadership, serving as Joint Secretary and subsequently Chairman of CIVIKONS.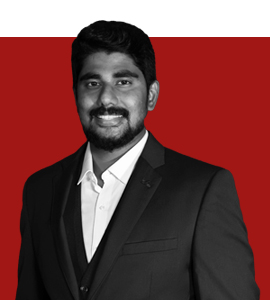 Sathish's leadership abilities blossomed through his involvement in Rotaract, a global organization focused on community service and personal development. Since 2015, he has been an active member, and his dedication led him to hold several positions within the Rotaract Club of Covai User Group. He served as a Member (2015-2016), Treasurer (2016-2017), Club Service Director (2018-2019), President (2019-2020), Immediate Past President (2020-2021), and currently as a Member (2021-2022).
Within the Rotaract District Organization 3201, Sathish continued his journey, making significant contributions to the community. He served as the GRS Group 2 (2020-2021), GRR Group 2 (2021-2022), the District Rotaract Representative (DRRE) for the 2022-2023 term and now as the District Rotaract Representative (2023-2024).
Throughout his Rotaract journey, Sathish has been recognized for his outstanding contributions and achievements. He received the Outstanding President award for his exceptional leadership during the 2019-2020 term. In addition, he was recognised with DRR's special recognition in 2021-2022. Sathish's commitment towards the Organisation and his guidance towards the club activities have made him certified as Rotaract District Trainer(2019-2020).
At the district level, Sathish actively participated in various initiatives, leaving a positive impact on the community. Notable projects include RISE (Rotaract District Assembly), where he served as the Host President in 2018-2019, the installation of solar panels (SOLAR), rainwater harvesting implementation
(D-RAIN), and providing first aid training to students (HEART BEAT). Sathish's leadership skills were further honed during his involvement in the Masti project (2020-2021), where he served as the Host Group Rotaract Secretary. He also took on the role of Event Chairman for Sparkle (2021-2022), organizing training sessions for Presidents and Secretaries. Additionally, he hosted and conducted the Presidents and Secretaries meeting in Palaghat, Kerala, along with an Outbound Training Program, during the Tweet Up event (2021-2022).
Beyond his Rotaract involvement, Sathish successfully manages his own construction and interior business, "DOMICUBE Shelters & Interiors." Through his work and his active participation in Rotaract, he aims to make a positive impact and create a better tomorrow. Sathish's mantra is "Together Towards Tomorrow," reflecting his belief in the power of collective efforts and collaboration. Rtr. Sathish Balakrishnan embodies the qualities of leadership, compassion, and dedication, leaving an indelible mark on his community through his remarkable achievements and selfless service.